Tell Me about it Thursday w/ Brittney from Mommywood!
This is a picture from this summer when I took my little cousin (well my cousin erin's daughter Emma) to the Zoo. This specific picture is of the otter. I was hoping to show you a pic of the giraffe we were feeding but is the 25th pic in that album and the giraffe ones are at the beginning. Oh what the heck here's a giraffe picture too.
YO TWEEPS W/ SUPAHMOMMY & THE WOLFPACK
Image courtesy of
Wolverine on August 20, 2009 by Dave Mott
DIRECTIONS:
To play along and increase your twitter twaffic do the following:
1. Follow the first 5 Twitter Twaffic hosts listed on the linky. Netiquette and courtesy! They'll reciprocate your love on twitter!
2. MAKE A BLOG POST LIKE I am doing. Copy and Paste these directions.
3. Grab the YO Tweeps Twaffic Exchange Button on Supah's post. Put him in your post.
5. Put YOUR OWN twitter icon / link on your blog post like I did. It should directly link to your TWITTER PROFILE. ( there are directions below if you need)
6. Now link up your post below in the linky!
7. Visit some other #YOtweeps linkers on the list.
8. Follow them if you choose and shout out to them on twitter that you are following so they can instantly follow you if they're on.
(Follow their blog as well if you're interested.)
Example:
@personsname #yotweeps I'm following!
9. If someone follows you JUST reciprocate on twitter. It's that easy.
(He's so cute. Put him on your sidebar too)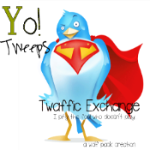 Join in the fun and grab the html code to paste the linky into your own site !
SPread the word. WE'LL BE BACK every THURSDAY TO DO THIS AGAIN! ( yes THURSDAY)
p.s. Tweetdeck.com is AWESOME and makes this game of twitter SO MUCH EASIER and fun.
How to make a twitter ICON:
* here are some twitter icon sites ( WHERE TO GET THE COOL TWITTER PICS)..


http://twittericonfactory.com/


http://www.twittericon.com/


http://www.hongkiat.com/blog/100-remarkably-beautiful-twitter-icons-and-buttons/

FIND ONE… that you like.

Download it and put your name on it with a site like photobucket, picnik.com , photoshop, paint etc.
** I can make you one also. Just to put the name on it all fancy I'll do for free, Custom (like Chief's) are $3**

Then upload it to your blog post and link your twitter profile to it directly!
Check out Supah's Awesome Giveaway! I so wanna win this for my Niece Whitney!