I love movies so when I saw that Lin was having a Movie Night Swap I knew I had to join in!! I got partnered up with Jenna and she got me some seriously awesome stuff!!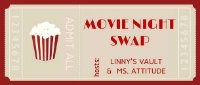 I haven't had a chance to watch Orgazmo yet but she said it was really funny so I'll have to maybe check it out this weekend
I absolutely love how to lose a guy in 10 days and I'm so glad she sent it to me because I seem to have lost my copy of it lol.
The Candy so didn't last long, in fact the PB Snickers didn't even make it into the picture
I really loved my entire package!!